Find out Why We've Moved To Portugal...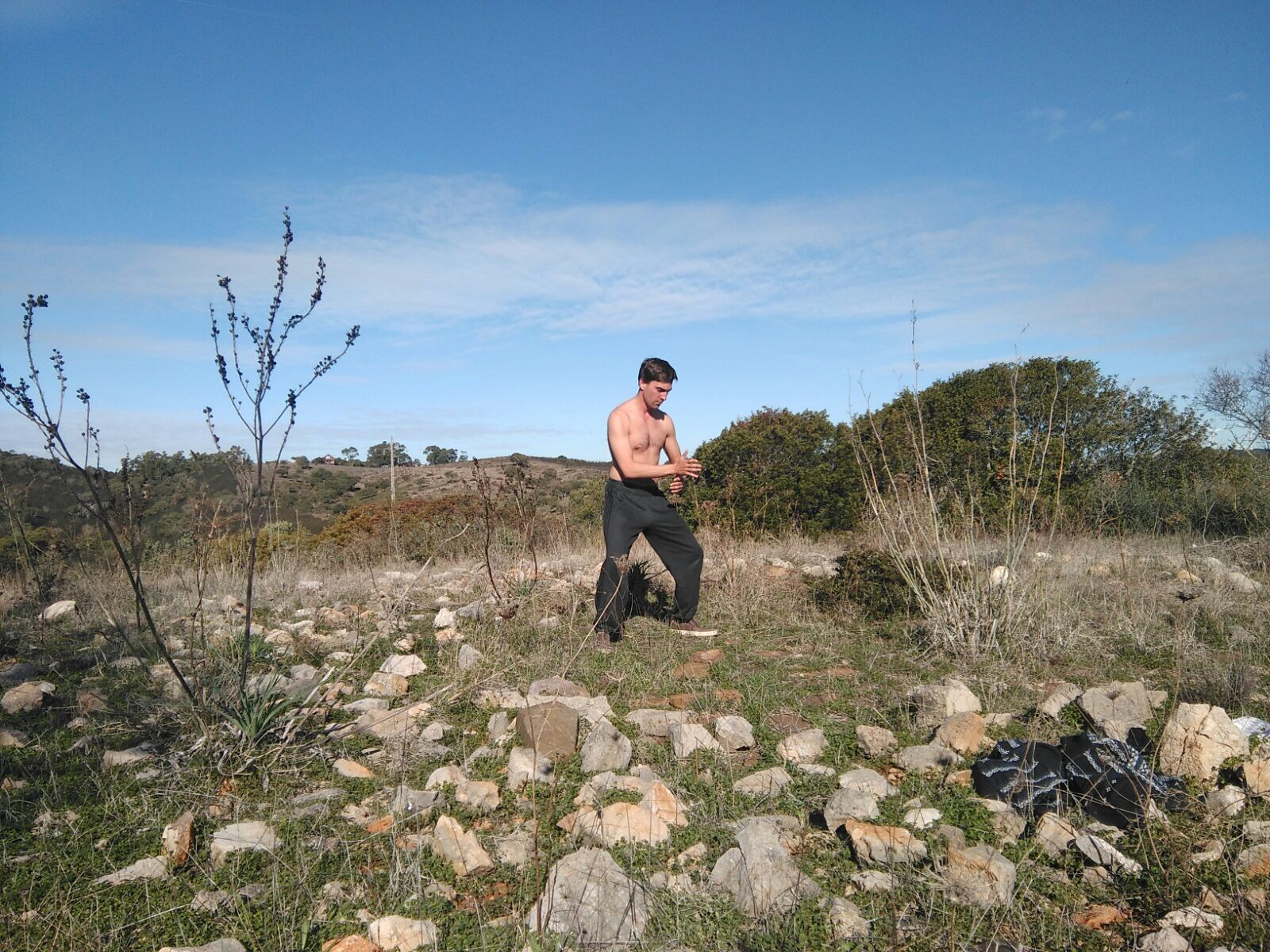 CENTRE FOR SELF REALISATION AND SELF EXPRESSION
"Spiritual balance is the principle that allows the mind to
be still. You cannot expect the world to settle down,
everything to work out, in order for you to be happy. You
have to first balance your inner world"
In English, Equilibrio means balance. In a world full of
technology and constant distractions, it's difficult to stay
balanced. Demands on our attention are nearly
infinite work, emails, kids, bills – how do you stay
grounded? For many of us the answer is, we don't.
There comes a time when we need to escape our phones,
the hustle and bustle of busy streets, and the stressors
that keep us from feeling at peace – to connect to nature
and more importantly,reconnect to ourselves. To make a
choice to get back in balance.
We want to provide a space where people can rest.
Deeply rest. A place to come home to your own being,
where you can surrender all the woes of life, all the worries
of the future, and simply be in stillness. In the stillness we
find our centre – our true self. In the stillness we find our
balance once again.This is the inspiration for the vision …
FONTE DO EQUILIBRIO: Centre for
Self-Realisation and Self-Expression
Self-Realisation:
Tap into the innate knowledge that shows you there is nothing to fear
Recognise your true self as limitless and untouchable
See through the illusion that we are a separate body and mind

Feel and know ourselves deeply as everything yet no-thing.
Accept that there is nothing of permanence we can ever gain or ever lose
Self-Expression:
Practice expressing our personality and the energy of our soul

Celebrate the unique talents we have to share

Practice loving one another unconditionally

Support each other with compassion

Connect with one another on the deepest level

Practice having fun, playing, and creating

Let go of inhibitions and embrace true freedom
Values of the Centre
Simplicity:
Live simply and go back to the basics

Realise that you don't need much to be happy

Recognise that overcomplicating things is a cause

of mental suffering

Take care of our basic physical requirements

Nurture an environment that feeds our innate desire to love, express, and create
Loving Acceptance:
Be ok with what is

Accept the feeling - however low the low or high the high

Embrace the full spectrum of feelings and emotions

Kindness, gentleness, and compassion towards ourselves and others
Freedom :
Go beyond labels

Trust your inner guidance and integrity

Express yourself without inhibitions

Respect your power and trust the power of others
Fun:
Don't take anything too seriously and have a laugh!

Remind each other nothing truly matters so we might as well enjoy the ride

Nurture our creative juices and expressive qualities
Truth:
Look within for your source of understanding and knowledge

Stay grounded in your power

Discern between illusion and reality

Be true to your own path

Have the strength to say no when something doesn't feel right
Why this is happening
After many years of deeply exploring inward and pushing as
many boundaries as I could, something happened that has
changed my experience forever. You could call it an
"awakening." At first it was incredibly blissful and
enlightening. Then it was absolutely terrifying. To say it has
been challenging to assimilate this awakening into the"real
world" is an understatement.
It has felt incredibly confusing, isolating, painful and scary.
From theWestern perspective it seemed something wrong
with me. However,when I travelled to the East, I started to
understand that something beautiful was transforming in me.
After many occasions of begging on my knees and praying
for it all to end, a light within me began growing stronger
and stronger. Slowly but surely a vast freedom and an all-
encompassing love has been permeating my experience more and
more....
SEE https://www.samuelpower.co.uk/about-sam/
FOR MORE BACKGROUND INFO ABOUT SAM AS A
PRACTITIONER
I wish for this centre to support those who feel isolated,
confused,scared or who just seek some space to go within.
To give them a chance to really rest and take their time
through challenging transitions. What helped me navigate
through the darker times was having space to Simply be. To
let it all go. To be nurtured and loved.
This is what I wish to offer.
We are in a stage of our evolution of consciousness where
experiences similar to Sam's will continue to happening to
many many others and they will be in need of somewhere to
go to feel safe and to better understand the changess that
they are experiencing in themselves.
WAYS TO DONATE:
Bank Details for Direct Transfer:- Fonte Do Equilibrio
(UK Community Bank Details):
Sort Code: 40-43-25

Account Number: 61491652

Iban: GB57HBUK40432561491652

Bic/Swift: HBUKGB4
GOFUNDME CAMPAIGN:-
https://uk.gofundme.com/fundfonte

(Select 0% fee, or donate extra tip to the GoFundMe Platform, as you wish)
PAYPAL:
Objectives

-Inspire humanity to look within and recognise one's
infinite source of peace, love, freedom and power.
-Inspire humanity to freely express and share one's
unique gifts and talents.
-Recognise one's 'inner centre' and learn to rebalance
the Yin and Yang energies to live in accordance with the
natural flow of life.
Involvement
Teachers and experts from all over the world are invited
to come and share their talents and gifts. The center will
create a sense of family and community amongst its
inhabitants.
Weekly classes are offered on a variety of topics
including qigong, meditation, improv, music, and dance.
The centre features a private space reserved for one-
on-one healing and transformative work, along with two
separate communal spaces dedicated to Yin activities
(group meditations, silent time, sharing circles) and Yang
activities (improv, martial arts, drama).
The centre offers retreats lasting 1-7 days roughly every 2
months, along with immersion stays with longer durations
(up to several months).
Participants are encouraged to get involved with the
maintenance, development, and running of the centre.
This would include gardening, planting, permaculture,
building structures, cooking, making fires, and other
activities as needed.
Outcomes
(All of the below are just a byproduct of realigning with one's True Self)
Healing
Navigate through scary and confusing awakening experiences
Recover from Depression, Anxiety, Panic Attacks, Suicidal despair
Release traumatic energy, (recovering from PTSD, ASD, RAD)
Balance your energy centres
Empowerment
Regain clarity of mind and clarity of action to align with your Higher Calling
Connect with your source of creativity and spontaneity
Overcome fears of judgement, failure and rejection
Create deep and meaningful connections with others
Let go of the victim mindset
Who the Centre Serves
The centre will support those who feel isolated, confused
and scared. It will be a place for those who are
searching within themselves – to give them a chance to
truly rest. Let us create a space that allows them to take
their time and feel through their transitions and connect
to themselves. What helped me most when navigating the
darker times was having a space to simply be. When we
can simply be, we regain our balance.
The Uniqueness Of The Centre
Some communities and centres have a serious tone that
forces obligations, restraints, and rituals on the
participants. This centre does not preach any "way" or
"path." It encourages everyone to find their own wisdom
from within. The emphasis is on being able to enjoy the
journey of self-realisation and self-expression.
Fun, games, and unique expression are encouraged.
People at the centre will not be forced to act a certain
way. Instead, trusting each other, respecting our own
power and the power of others, will be paramount.
Often in centres, there is an emphasis on silence and
going within, but no space for releasing emotions or
having support from others (Osho's Dynamic Meditation
practice, for instance). Fonte do Equilibrio has
spaces dedicated to both silence and release.
The Part of Nature
The centre is surrounded in a serene sacred environment.
We respect the land like we would our dearest family
members. We plant our own produce in order to live off
the land and the peaceful energy of nature helps deepen
our peace and insight.
Service To Humanity
The dream is for the centre to be supported fully by the
donations and the kindness of others.However while the centre is in its early stages we still incorporate retreats with fixed prices as well as those purely based on donations. . I have witnessed the latter
working in several monasteries and vipassana centres across
the world, and this model resonates most with me and the
mission of the centre.
By offering refuge to those in need, we can have the
greatest impact and can truly be of service. Without the
pressure to make money or sell, we quiet the ego and come
from a place of true giving. This is the the intention of Fonte
Do Equilibrio.
There is so much potential for this SERVICE SPACE.
WAYS TO DONATE:
Bank Details for Direct Transfer:- Fonte Do Equilibrio
(UK HSBC Bank Details):
Sort Code: 40-43-25

Account Number: 61491652

Iban: GB57HBUK40432561491652

Bic/Swift: HBUKGB4
GOFUNDME CAMPAIGN:-
https://uk.gofundme.com/fundfonte

(Select 0% fee, or donate extra tip to the GoFundMe Platform, as you wish)
PAYPAL:
Location
Pedragosa, close to Barao Sao Joao, Algarve
Ways to Help
1. Donate or invest
We have already raised €25,000 toward our goal of
€150,000. Anything you're able to contribute goes a
long way toward helping someone heal.
2. Share this project with those who have the means
to fund or sponsor
If you would like more information regarding investment
opportunities, or to see the Investor's Package, please
email samuel@samuelpower.co.uk
3. Share this page with those who have previous
experience in the field
Learning from others who have run successful retreat
centres has been a tremendous help thus far. Any further
insights from those in the know would be cherished.
4. Come to Portugal to help build structures, grow
vegetation and run the centre!
Together, our shared energy and commitment is what will
bring this centre to life.
5. Sharing your gift
Currently, the team need help with the following areas:
Marketing (social media, email marketing, creating campaigns, creating a website, etc)
Filming (creating sharp videos, video editing, etc)
How Your Donation can Help
£10 = Feeds someone at the centre for one day
£20 = Provides food and accomodation for someone for one day
£50 = Helps maintain and grow produce for the centre and its inhabitants
£100 = Allows someone to attend a 4-day retreat
£1000 = Provides and eco-friendly toilet
£2500 = Purchases a yurt that sleeps 6 people
£5000 = Builds a well to provide fresh water for the community
A Final Message From the Fonte Team:
Dear soul,
Thank you for your kind contribution to this heartfelt project.
We are deeply grateful for your support, without which none
of this could happen. Your support helps significantly
towards creating something magical, something meaningful
and something that serves the greater good of the whole
planet.
Take a moment to imagine a world where in every town there
is a centre like this.... In every village there is a space for
people to come together as one in the name of love and
connectedness..... In every city there is a school where
children are taught how to prioritise self love, compass
ion and nurturing one's inner creativity..... In every
government there is an understanding of oneness and our
true potential is fully embraced and encouraged to shine....
This is the kind of world that you are helping to create by
supporting such a project.
A new world, an exciting one, full of light and love!
Wishing you all the love and joy that you deserve on your
journey through this life.
Sam and the Fonte Do Equilibrio Team
WAYS TO DONATE:
Bank Details for Direct Transfer:- Fonte Do Equilibrio
(UK HSBC Community Bank Details):
Sort Code: 40-43-25

Account Number: 61491652

Iban: GB57HBUK40432561491652

Bic/Swift: HBUKGB4
GOFUNDME CAMPAIGN:-
https://uk.gofundme.com/fundfonte

(Select 0% fee, or donate extra tip to the GoFundMe Platform, as you wish)
PAYPAL: